You can truly sit back and enjoy when you know you have chosen the best for your guests. Rubino's specialty, made to order cookie and pastry trays, are designed to satisfy everyones craving.
Choose from homemade Cannoli, Cannoli Bites,  CannoliWiches (cannoli cheese stuffed between two chocolate chip cookies), eclairs, cream, chocolate, or cheese puffs, and our Italian cookies.
---
The Big Cannoli!
Order Today! (585) 544-5680 ext.2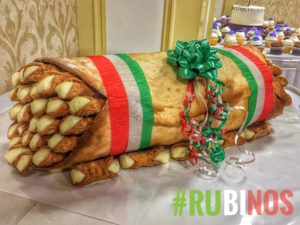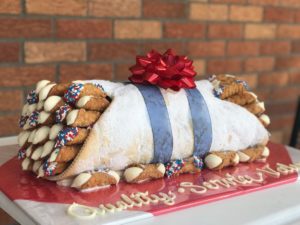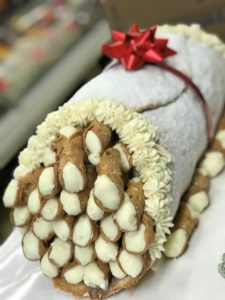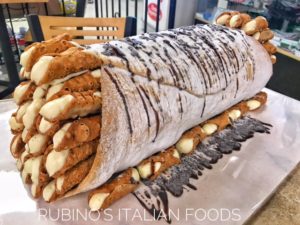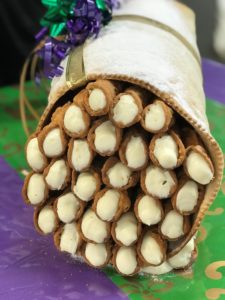 ---
We have over 10 Varieties of Cannoli every day!
Traditional Cheese
Chocolate Chip
Chocolate Chip Chocolate Shell
Triple Chocolate
Pistachio
Slivered Almond
Peanut Butter with Reese's Pieces on the ends
Oreo
Hand-dipped
Traditional with Cherry (Seasonal)
Birthday Cake (Seasonal)
Everyday Pastries
Eclairs
Half moons
Sfogliatelle (seasonal)
Smiley Face
Creme, Chocolate, & Cheese Puff
Holiday Cookies
Sfingi (seasonal)
Italian Cookies including: Rainbow (3 layer), raspberry sandwich cookies, silvered almond cookies, chocolate cookies, vanilla cookies,  homemade S cookies, Cherry almond cookies, Tea Cookies and many more.
---
All natural, homemade Gelato!
Fresh creamy milk, all natural ingredients, with no preservatives, additives, or corn syrup! The tradition of Italian gelato is ancient and our goal is to mimic the flavors of Italy. We have learned to take our time and enjoy the process, because faster does not always mean healthier and better tasting. It takes time, effort, and in-depth research, to make gelato, perfecting each flavor to the last spoonful. The gelato you find in commercial stores won't bring you back to childhood memories, this one will.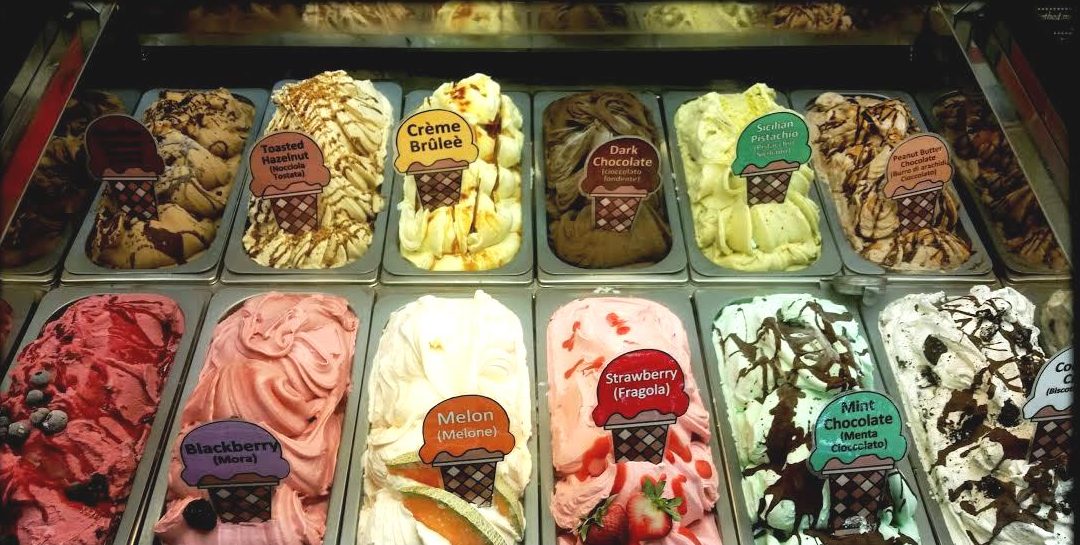 Gelato Flavors:
Dark Chocolate
Sicilian Pistachio*
Toasted Hazelnut
Crème Brûleè*
Cookies & Cream*
Peanut Butter Chocolate*
Mint
Blackberry
Blueberry
Melon
Strawberry
Coconut*
Tiarmisu
Limone
Black Cherry
Sea Salt Caramel
Banana Walnut
Nutella*

Cannoli*

* Customer Favorites
Note: Not all Gelato flavors are listed, visit the store or call to find out which flavors we are serving! Ciao